You've tried other lawn and pest control services, but Consolidated Pest Control offers a professional approach that really does work.
Capable, Reliable Pest Control in Land O Lakes
If you are looking for top notch service in your pest control and lawn care, look no further. Consolidated Pest Control's professionalism and proven results speak for themselves. Since 1989, we have taken care of pest control in Land O' Lakes. Our three decades of experience make us a name that you can trust. We are a family owned and operated business, so we understand the importance of putting your family first.
What makes Consolidated truly stand out as a Land O Lakes pest control specialist is our ability to offer custom service plans. Those individually tailored plans ensure that your family does not have to worry about pests in the home or lawn.
Pest Control Packages for Land O Lakes Residences
Helpful, local Land O Lakes Pest Control Packages, something you might be desperate for. Thankfully, Consolidated Pest Control derives its name from the consolidated plans we offer that cover your home and property. These plans help save your time and money by giving you all the pest control packages in Land O Lakes you might desire.
Ultimately, our goal is to help families spend more time with one another and less time worrying about pests in their homes. The Total Home Protection Plan is the ultimate stress relief for homeowners, and it all happens in a few easy-to-understand steps:
Tailoring a pest control program to meet the needs of your family.
Investigating ongoing and potential pest invasions that might befall your home, ensuring that we are well-informed about the situation.
Creating a monthly routine for spraying and inspections.
Potential future, scheduled visits to ensure that the pests are well-eradicated.
Prevention of Pests in Land O Lakes, FL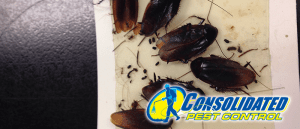 Pests are much harder to remove when they establish themselves in an environment. This is why pest prevention in Land O Lakes is a key portion of our work to keep your home pest free. We offer our perimeter prevention treatment on a quarterly basis. This ensures that your home has standing defenses against pests like roaches and flies year-round.
Local, Land O Lakes pest prevention has to be thorough to properly defend against these very determined raiders. Our preventative care applies to all of the external perimeter walls and around the foundation as well. It also extends to the edges of any openings into your home such as doors and windows. Finally, we treat under the eaves to finish sealing the house against pests like:
Rats, Mice, and Other Rodents
Silverfish
Ants
Crickets
Centipedes
Cockroaches
Spiders
And Countless More!
Termite Protection Services
Unfortunately, some local pests need more active treatments in order to protect your home. We're looking at you termites! Luckily, Consolidated Pest Control has a secret weapon against termites…Termidor.
Termidor is the industry-leading subterranean termite treatment in Land O Lakes. This is because Termidor has the ability to stick to any termites it comes in contact with. Those termites then carry the treatment back to the colony to eliminate termites at their source. So, for Land O Lakes Termite Protection, this is your best bet.
We will work with you to eradicate termites in your home or business. During the process, we inspect, investigate and identify the source of the invasion.
We identify the invaders themselves so we can create a custom plan for your property.
We thoroughly review our proposed solutions with you for your comfort and safety while also operating with transparency.
We will operate with transparency, keeping you informed throughout the process.
Our experts work quickly and efficiently to exterminate the colony without sacrificing your health and safety.
*cannot be combined with any other promotion
Lawn Spraying and Care For Land O Lakes
The most effective barrier to distance pests from your home is a well-maintained lawn. Just think – if any pests attempt to get to your house, they have to traverse your yard first. We offer lawn spraying in Land O Lakes on a monthly basis to keep your lawn as beautiful as ever, even in Florida weather. Our Land O Lakes lawncare fertilization services are in conjunction with spraying – the fertilization sustains growth and nutrition in your lawn for that perfect green.
We provide regular, effective monthly lawn spraying services.
Our lawn fertilization program replenishes nutrients naturally lost in all types of grass over time, ensuring your lawn is as gorgeous as can be.
We also offer advice and information on lawn maintenance, useful tips proven by the landscaping industry.
Rodent Control and Removal in Land O Lakes, FL
We understand that rats and mice can cause a great deal of frustration, stress and worry in your home or business. Fortunately, our Land O Lakes rodent control experts are available to help. Our trained technicians use effective and humane methods to eliminate rats and mice from your property. For more information about our rodent control services, call us today to schedule rodent extermination in Land O Lakes to prevent these beneath:
Rodents tainting your food.
Their unsanitary presence will harming your family and pets
Unhygienic droppings becoming a dangerous mess.
Proven Family-Friendly Pest Control Methods!
When you hire a Land O Lakes family-friendly pest control company that respects the safety of your family and pets, you can enjoy the rest of your day. For family-friendly pest control in Land O Lakes and surrounding areas, contact Consolidated Pest Control today.
Apollo Beach
Brandon
Dade City
Dover
Gibsonton
Lakeland
Land O Lakes
Lithia
Lutz
Mulberry
Odessa
Plant City
Riverview
Ruskin
San Antonio
Seffner
Sun City Center
Tampa
Temple Terrace
Thonotosassa
Trinity
Valrico
Wesley Chapel
Wimauma
Zephyrhills
Local Reviews
for Land O Lakes, FL
---
Choose Your Service
Pest Control/Lawn Fertilization
We form an invisible line of defense between you and the insects.
With Consolidated's pest control service, our technicians spray the perimeter of each client's residence with a treatment that repels all manner of household pests.
Consolidated's lawn fertilization service combines preventative and curative solutions to keep your lawn healthy and green all year long.
Schedule Your Appointment
Fast and Convenient
With our award winning pest control service, we can eliminate your pests in less time for less money. Our quotes are accurate and affordable.
Our lawn fertilization service quotes are as quick as a phone call, and our technicians offer info and updates on your lawn with each visit.
Request a quote today for fast, friendly service.
We Take Care of the Rest
Expert Technicians
At Consolidated Pest Control everything we do is filtered through our E.T.A. Core Values.
We are committed to a positive culture which will create the necessary structure to ensure the success of our team members and the company overall.
Consolidated Pest Control is the best in the industry, because we pride ourselves in offering professional service with tangible lawn and pest control results.