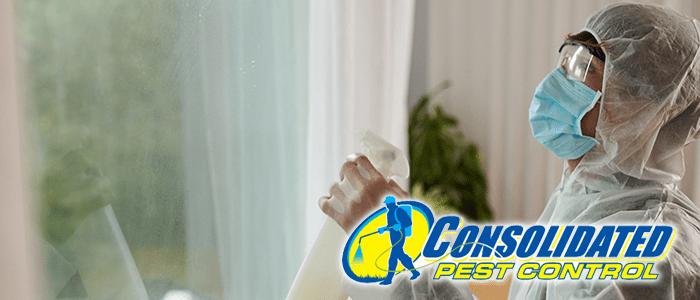 Prevent Pests and Secure Your Property: Trust Consolidated Pest Control
Are you tired of dealing with pests in your home or business? Are you tempted to try DIY pest control to save some money? While it may seem like a good idea, the dangers of DIY pest control can often outweigh the benefits. That's where Consolidated Pest Control comes in. Our team of professionals is dedicated to providing safe and effective pest control services for both residential and commercial properties to prevent pests and keep them away. Keep reading to learn more about the dangers of DIY pest control and why it's important to hire a professional.
Section 1: The Risks of DIY Pest Control
Trying to handle pest control on your own can be risky for several reasons. First, many DIY pest control methods involve the use of harsh chemicals that can be dangerous to both humans and pets. Inexperienced individuals can easily mishandle these chemicals, leading to serious health risks or even death.
Second, DIY pest control often involves trial and error, which can be a costly and time-consuming process. You may end up spending more money trying to fix the problem than you would have by hiring a professional in the first place. Additionally, many DIY methods only address the symptoms of the problem, not the underlying cause. This can lead to a cycle of re-infestation that can be difficult to break.
Section 2: Health Risks of DIY Pest Control
As mentioned earlier, the chemicals used in many DIY pest control methods can be harmful to human health. Exposure to these chemicals can lead to a variety of health problems, including respiratory issues, skin irritation, and even death in some cases. Children and pets are especially susceptible to these risks, as they are often unable to avoid contact with the chemicals.
Furthermore, many pests carry diseases that can be transmitted to humans. Attempting to handle these pests on your own can put you and your loved ones at risk of contracting these diseases. Hiring a professional pest control company can greatly reduce the risk of both chemical exposure and disease transmission.
Section 3: Effectiveness of DIY Pest Control to Prevent Pests
While some DIY pest control methods may provide temporary relief, they are often ineffective in the long term. Pests are resilient creatures and can quickly adapt to new environments or treatments. Without the knowledge and experience of a professional, it can be difficult to fully eradicate a pest problem.
On the other hand, professional pest control companies have access to specialized equipment and treatments that can effectively eliminate pests and prevent their return. Additionally, professionals have a deep understanding of pest behavior and can use this knowledge to create customized treatment plans for each individual situation.
Section 4: DIY Pest Control vs. Professional Services
To better understand the differences between DIY pest control and professional services, let's take a closer look at some of the most common pests encountered in homes and businesses: ants, roaches, and rodents.
Ants: DIY methods often involve the use of traps or sprays, which only address the ants you can see. Professional pest control companies use baits and other specialized treatments to target the entire ant colony, ensuring long-term control.
Roaches: Roaches are notoriously difficult to eliminate, as they can survive in a variety of environments and are resistant to many treatments. Professional pest control companies use a combination of baits, sprays, and other treatments to fully eradicate roaches and prevent their return.
Rodents: DIY rodent control typically involves the use of traps or poison, which can be dangerous to pets and children. Professional pest control companies use humane traps and exclusion techniques to safely eliminate rodents and prevent future infestations.
Section 5: The Importance of Choosing a Professional Pest Control Company
When selecting a pest control company, it's important to choose one that is licensed, insured, and experienced. Consolidated Pest Control meets all of these requirements and more. Our team of professionals has over 40 years of combined experience in the pest control industry and is dedicated to providing safe, effective, and affordable services to our customers.
In addition to our experience, we also use eco-friendly products and treatments whenever possible, ensuring the safety of your family and pets. We believe that pest control should be a collaborative effort between our team and our customers, which is why we provide ongoing education and support to help you prevent future infestations.
Section 6: Guaranteed Results
At Consolidated Pest Control, we stand behind our work. We are so confident in the effectiveness of our treatments that we offer a 100% satisfaction guarantee. If you are not satisfied with the results of our services, we will return to your property and re-treat at no additional cost.
Section 7: Preventative Measures to Prevent Pests
In addition to our pest control services, we also offer lawn fertilization and preventative treatments to help protect your property from future infestations. We believe that prevention is key to maintaining a pest-free environment, which is why we work closely with our customers to develop customized plans that meet their unique needs.
Section 8: Customer Reviews
Don't just take our word for it – see what our satisfied customers have to say about our services. We have received numerous five-star reviews on Google and Yelp, with customers praising our professionalism, effectiveness, and affordability. Hearing from our satisfied customers is one of the best ways to understand the value of our services.
Section 9: Contact Us Today to Prevent Pests
Ready to say goodbye to pests for good? Contact Consolidated Pest Control today to schedule a consultation. Our team of professionals will work with you to develop a customized treatment plan that meets your unique needs. Don't let pests take over your life – trust Consolidated Pest Control to provide safe, effective, and affordable pest control services.