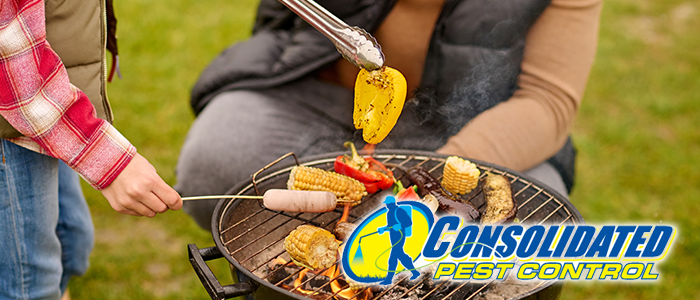 Keeping Bugs Off Your Barbecue Guest List
In the summer is there a better time to gather family, friends, and neighbors alike for some good old-fashioned cooking and fun in the sun? The last thing you want on your guest list is ants and mosquitoes, but cancel your plans just yet; we've got some tips to help you keep from inviting bugs to your next barbecue.
Whether it's with friends and family or just to cook a summery lunch, read on to check out our best barbecue bug defense tips.
Mosquitoes
Not only are these blood-sucking pests an annoyance, but they also pose a threat to you and your family's health by carrying and spreading disease – which is why we've put them at the top of the list for pest prevention.
Just about every yard offers a spot that mosquitoes use as breeding grounds, as they only need about a half inch of standing water to make themselves comfortable. Before your next backyard event, remove moisture and water wherever you can.
Take a look at some of these water-gathering spots and make sure you've emptied them:
Birdbaths

Covers on Grills, Cars, and Boats

Pet Bowls

Clogged Gutters and Downspouts

Non-working Fountains and Water Features

Lawn and Gardening Equipment

Kiddy/Baby Pools

Childrens' Toys and Playsets
Ants
Classic picnic pests that seem to parade themselves wherever just a single one of their buddies has found food and water. Like mosquitoes, ants are attracted to moisture, so you can discourage them from attending by doing the same thing you would for mosquitoes.
Ants are also attracted to foods that have high concentrations of sugar, so be sure to keep that in mind when you're setting out cake, watermelon, fruits, or punch bowls.
Flies
Having to swat flies away from your drinks and plates is not only very annoying, but detracts from being able to have an enjoyable meal – and you can never be sure where they landed before landing on your food.
Keeping flies at bay is as easy as covering your serving dishes and making sure all drinks are in containers with lids. There are plenty of options on the market for outdoor food coverings, but even just bowls and colanders turned upside down or plastic wrap will help.
Wasps
Wasps love soda cans and bottles that are common at outdoor summer gatherings, but you don't want you or your guests to get a nasty surprise – which to some can even be life-threatening due to allergies.
Buy beverage can covers or lids that have screw caps – which can be bought online if you're having trouble – before your event and make sure they are available to guests.. You can even buy them in different colors, which has an added bonus of helping your party goers keep track of which drink is theirs in addition to wasp-proofing their drinks.
Extra Tips and Closing for Bug-Proof Barbecue
Here are a few nonspecific extra tips that help at keeping all sorts of pests away.
Lots of pests are weak fliers, so aim fans at a central gathering area.

Make sure garbage cans are located far from where you're serving food.

Keep food away from the ground, and clean tables regularly of crumbs and spills.

Give guests tips before the party, like not wearing heavy cologne or perfume and to wear light clothing.

If you choose to serve drinks in plastic cups, make sure discarded ones are rinsed and put in a tightly sealed trash bag.

Don't use real flowers for decoration.
But, if you want some help with those wasps from professionals, contact us at Consolidated Pest Control.